It was a crazy spending day. I needed some new clothes for the trip to India, which is happening this Saturday! I'm coming back on Aug. 6th! Gotto tell ya, these stores are so sneaky. I found some t-shirts and beaters on sale for 5 bucks a piece at H&M. Both of the t-shirts were the same, v-neck. The only difference was that one of them was black and the other one was light blue. When I got to the counter, the blue V ended up being 10 and the beaters were 13. The cashier gave me nothing, she just showed me the tag with the price on it and told me that's how much it was. I ended up getting them because I kind of grew into them already. Meeessssed up. I'm still a little ticked that they lied to me. I'm not a name brand guy, what ever fits me well, I like. That's all. Clothes from H&M tend to fit me better so I go there often. I'm trying to save for the trip so that's why I jumped on the $5 dollar clothes, which is now a fail.
I didn't have good flip-flops to wear plus its like 90 degrees out so I used my dad's old ones. Big mistake! They looked so bad and old. lol My sister couldn't stop looking at them and making fun of me. I didn't mind them at first but after a little while I couldn't stand them, I had to get new ones. I'm happy with these new flip-flops though. They made my day. I got these Van's for $20 and they feel so good.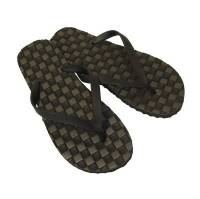 My job doesn't allow me to sit so my feet have been killing me these last couple of days but the pain went through the window after wearing these. Best investment ever.
I still needed to get jeans so I went to this other store. I picked out these nice jeans, I even tried it out. Legit, the sign said 30. I went to the cashier, it ended up being 50. He told me that select jeans were 30 but this one is 20 dollars more. I went to the sign again and he was right. What was written was 29.99 and in the smallest white letters that they could find they wrote "for select styles." Sneaky Sneaky I ended up buying it because I was running out of time, I already tried it on, and liked it. So much for saving. I like the Vans. I'm just clinging to sanity because of these Vans.